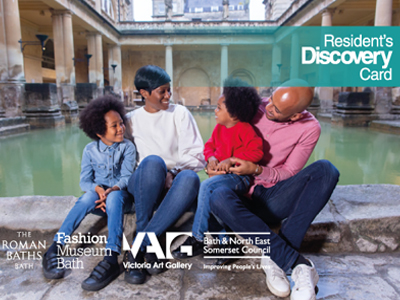 Save extra on Tuesday night tickets
We're delighted to announce a new partnership with B&NES Council Residents' Discovery Card that enables cardholders to get an extra £1 off tickets for scheduled Tuesday night league fixtures (excludes rearranged fixtures) when they book online – that's on top of the £1 discount we already give fans for booking in advance.
The new promotion kicks off with our upcoming derby against Taunton Town on Tuesday 24th October. If you haven't already got a FREE Residents' Discovery Card, signing up is easy – just fill in your details online and book an appointment to collect your new pass. You can activate and pick up your card in Bath, Keynsham or Midsomer Norton, whichever is the most convenient location to you. To find out more and sign up visit the Discovery Card website.
Once you're signed up, head over to the Discovery Card Offers page and Sports and Outdoors category to find your exclusive discount code to get £2 off every ticket when you buy up to 11.45pm on the preceding day – making Adult tickets just £14, Seniors £11 and U16s only £1. Then be sure to bring your Discovery Card with you to the match as you may be asked to show it to verify you're a card holder.
PLUS – a Discovery Card gives you FREE entry to the Roman Baths and the beautiful Parade Gardens, and a great range of discounts across Bath and North East Somerset including activities, attractions, spas and places to eat and drink.
Please note this offer is not available for the rearranged Yeovil Town fixture due to the fact it was originally scheduled and tickets sold for a Saturday.
We hope lots of you will get on board with the B&NES Residents' Discovery Card to make extra savings at City and across the region.