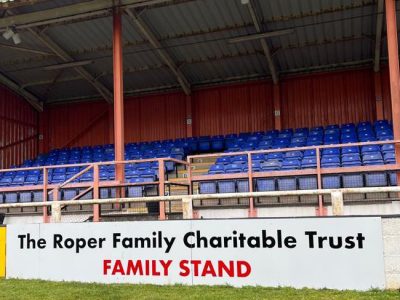 Roper Family Charitable Trust named Community Family Partner
Bath City is delighted to announce a new relationship with the Roper Family Charitable Trust, who become the Club's Community Family Partner.
The partnership sees the Trust fund an exciting new project to bring up to 1,000 parents and children from Bath City's neighbouring schools and communities to matches for free, with a warm welcome, extra activities and allocated space in the newly named Roper Family Charitable Trust Family Stand.
In addition, the Trust will enable all Under-16s across the whole of Bath and beyond to attend a match for free at the Club's annual Family Day in March this year, and there will be more tickets made directly available to the Bath City FC Foundation to distribute in their own programmes, rewarding engagement and commitment among their students.
Speaking about the new project, Mark Roper of the Trust said, "The Roper Family Trust is delighted to be partnering with Bath City on this exciting new venture. The club plays a key role in its local community and we are very excited that they will be using our contribution to bring in more young people and their families to watch football, and hopefully get involved in the game itself – especially in these difficult times when people are having to consider how they spend their hard-earned cash."
Bath City's Community Director Jane Jones added, "As a community owned club, this partnership with the Roper Family Charitable Trust fits with our ethos to support our local community and foster community spirit. We are very grateful for their support and we can't wait to welcome local children and their families to Twerton Park and hope to give them a memorable experience"
The Club will be working with selected local schools to begin nurturing a close and supportive relationship to enable students and family members to have an enjoyable and enriching day out at the football that they might otherwise not be able to contemplate in this challenging economy.
The agreement follows on from Novia Financial making their own significant commitment to Bath City's community objectives with its transformative funding of the new Bath City FC Women team.
Bath City's next home match is the National League South fixture against Farnborough this Saturday 28th January.