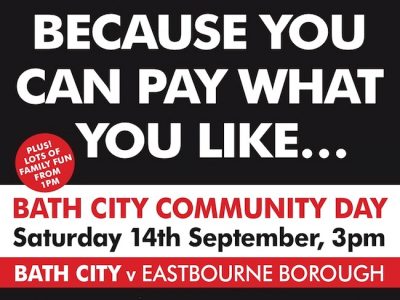 Reminder that this Saturday is the Annual Community Day Fixture
A reminder that this Saturday Bath City Football Club is inviting everyone in Bath to kick off a new tradition by coming along to its annual "pay what you like" Community Day fixture generously supported by BWW Communications.
Each Community Day, the community-owned club traditionally waives its admission charge and invites supporters to pay whatever they like to attend the match, with 10% of all gate receipts donated to the Bath City FC Foundation, the club's charitable arm.
We'll be pulling out the stops to make this, our seventh annual Community Day the best ever. The Bath City Beat-the-Goalie inflatable will be challenging visitors to test their kick speed, and for our younger visitors Bath City Farm are bringing along some furry and feathered friends. There will be Facepainting by Jo in Randall's and ice creams and a pop-up gazebo bar out on the car park. On the food front we have a special visit by the Scallop Shell fish and chips as well as our classic food offerings Mo-Be-Que and the Supporters club Tea Bar. And we're giving away free noisemaking Thundersticks to everyone on arrival (while stocks last) to help create a fantastic atmosphere!
Bath City's mascot, Bladud the Pig, will be on hand to take selfies with kids of all ages – and visitors will even get the chance to meet and grab a photo with some of the players.
Last year's Community Day was the club's best attended ever, with 1,585 cheering on the "Stripes" – and Bath City FC hopes to smash the record this year by attracting over 2,000 people to Twerton Park.
The fun starts at 1pm and the match against Eastbourne Borough kicks off at 3pm.