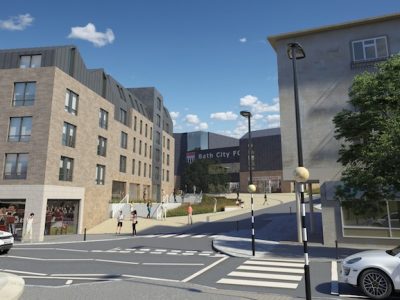 Redevelopment – responses to feedback
During the consultations earlier in the year, a few issues were raised which we've addressed as much as we can in the final submitted scheme, as follows:
Concerns about parking in the Twerton area were raised by 12% of respondents.
The new layout of the site will provide 49 parking spaces for the Club. Bath City FC have also agreed the use of 40 parking spaces in a nearby car park (four minute walk away) on match days. As part of the management of the PBSA, students will not be allowed to bring cars to Bath and this will be part of their lease agreement.
The inclusion of Affordable Housing within the scheme was mentioned by 12% of respondents, the majority of people requesting more housing for local people.
Bath City FC recognises the importance of Affordable Homes and that is why 12 are included in the scheme. These units will be prioritised for Twerton people. In addition the scheme will also include 33 co-living apartments, which will be available to rent on the open market and will be suitable for keyworkers, graduates and young professionals.
The inclusion of PBSA within the redevelopment scheme was raised as a concern by 24% of respondents.
PBSA is an essential part of the scheme. This element makes the redevelopment project financially viable. It will pay off the Club's debt and provide the grandstand, new community space and much-needed housing for local people. A new student population in Twerton will also help the local economy and wider community.
A new student population within Twerton will raise local footfall levels and boost the local economy. According to Oxford Economics, students in Bath spend approximately £206M on food, transport and social activities annually, and contribute £145.9M to the Bath and North East Somerset GDP. Students studying and living in Bath volunteer for and support a number of local organisations and charities.
After listening to local concerns and understanding ongoing issues with other schemes in the city Greenacre Capital looked at establishing best practice for the management of the PBSA element. The accommodation will have a 24-hour management presence responsible for waste, repairs, cleaning, administration and student enquiries.
There will be no parking provided for students and they will not be permitted to bring a car as part of their lease agreement. If a student is found to have brought a car to Bath, a three-strike system will be followed. Upon the first offence, a letter will be sent home to their parents or guardians requesting that the car is removed within 21 days. Upon the second offence, another letter will be sent requesting that the car is removed within seven days. On the third offence, the students lease will be terminated. In addition, a delivery crate will be sent to each student prior to moving into the site, which they will pack with their belongings. This crate will be transported via a delivery firm such as DHL or UPS. They will also receive a train ticket allowing them to travel to Bath by train when they move into their accommodation.