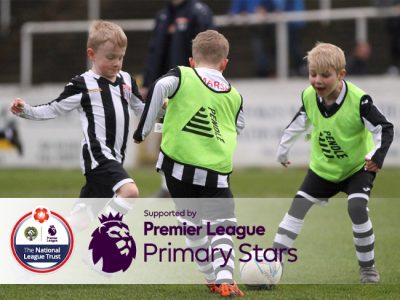 Premier League Primary Stars comes to Bath
Bath City FC have been awarded a grant from the National League Trust to deliver the Premier League Primary Stars programme in schools in Bath through the Bath City FC Foundation.
The Foundation has received a grant of £15,000 to help support Bath schools in its PE delivery with Key Stage 1 and 2 pupils. Foundation coaches will support teachers with their PE sessions and delivery. There will also be the opportunity for coaches to deliver specific targeted intervention work with pupils and offer additional support with competitions, afterschool & lunchtime clubs and additional teacher support. Bath City FC Foundation will be delivering in 3 local primary schools – St Michaels Junior School, Roundhill Primary School and St Martins Garden Primary School. In addition to this the Foundation will also be working closely with Threeways School as part of its provision for SEN pupils and staff.
The Primary Stars programme has 4 key values
Be ambitious – work hard and never give up on their goals
Be inspiring – set a great example to others
Be connected –work well with others and in a team
Be fair – treat people equally and think of others
Through these key values Bath City FC Foundation hope to help raise confidence and self esteem and also build resilience helping young people to be empowered and make their own choices.
Throughout the delivery of the project Bath City FC Foundation also benefit from the close relationship it has with the Football Club. 1st team manager Jerry Gill often attends events including assemblies and sessions. Jerry had this to say about Primary Stars "This is a fantastic programme provided by the Premier League and delivered throughout the country by various Community Foundations and Trusts. It's great to see that we have this opportunity to offer the schools in Bath and from what I have seen going out into schools with the Foundation it's having a great impact, not only to the pupils we work with in the schools but the staff as well. It's a huge positive for the schools, Foundation, Football Club and Bath Community."
"The project would not have been possible without the generous contribution from the National League Trust and the Premier League. To be one of the few National League clubs delivering this programme we are extremely grateful for this opportunity "
Primary Stars Co-ordinator, Sam Downes.
The Primary Stars programme offers many benefits not only directly to the schools and individuals that the Foundation works with but there are fantastic resources online that Pupils, parents and schools can access. If you would like to find out more about the programme and look at some of the resources available please visit https://plprimarystars.com/
One of the teachers at St Michaels Junior school had this to say about the current work with his year group. "The sessions have been incredibly beneficial in furthering our understanding of lesson structure, resources required and how to best utilise these. We've also gained insight into how to support and challenge pupils, alongside our own teacher assessment, in order to help them enjoy sport and / or achieve their potential. Attendance has improved and the pupils have developed their resilience and collaboration skills."