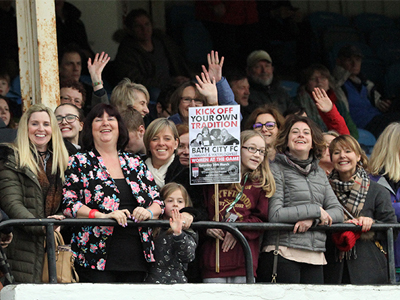 Plenty to celebrate with second annual Women at the Game fixture
There was plenty to celebrate at Twerton Park on Saturday as Bath City FC held its second annual Women at the Game (WatG) fixture. WatG is a national initiative which seeks to create a welcoming environment at football grounds across the country to encourage more women to become regular fans.
The day was a great success, with around 10% of the club's second-highest gate of the season (total 922) made up of women. Things kicked off with a prosecco afternoon tea enjoyed by something over 60 women – and not a few men who joined the fun – up in the J. Reynolds (Western) Limited Lounge before the game.
Stunningly-presented finger sandwiches and cakes, and quality teas, were kindly provided by the match sponsors, Morgan-Brinkhurst Consultancy and Wilson Family Teas and the Lounge was a buzzy, lively place to be as first of all EJ Evans entertained the guests with her country-tinged set of classic covers and her own material, then first team manager Jerry Gill charmed with an informative briefing about the day's game.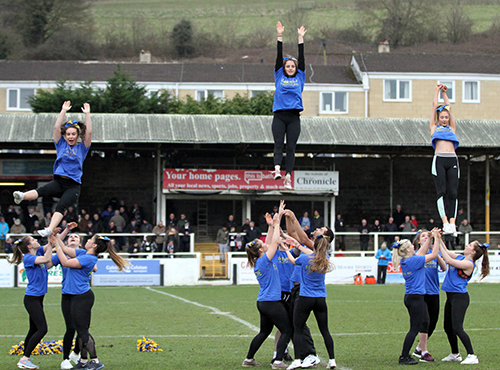 The University of Bath's cheerleaders the Bath Jets produced a half-time display that was simply breath-taking, causing jaws to drop and hearts to jump into mouths right around the ground.
With many of the new guests sticking around until well after the game was over, joining three sets of other corporate hospitality guests in the TR Hayes Lounge, a packed Charlie's Bar being treated to another set from EJ post-match – and kids from Peasedown Albion Youth FC and the Bath City Community Sports Foundation girls soccer sessions forming the first ever Pitchside Team of enthusiastic flag-wavers, Twerton Park was buzzing all day long.
£165 was raised at a raffle held at the WatG reception, thanks to prizes donated by Morgan-Brinkhurst Consultancy, Wilson Family Teas and the Club. The Club are adding a further £100 from the Bath Ales community fund, made up from donations of 5p for every pint of Gem and Carlsberg sold in the club's bars on matchdays. The money raised will be presented during half time at the upcoming match on Easter Monday (kick off 3pm) to the Southside Family Project, a local charity which deals with issues like physical disability, domestic abuse, sexual violence, substance abuse or long-term mental health problems.
General Manager Carole Banwell was really thrilled with the success of the day, telling us: 'The good news story that is Bath City FC under community ownership is spreading across the city and bringing in new friends all the time and the fact that many of them after last weekend are female is just fantastic.' "