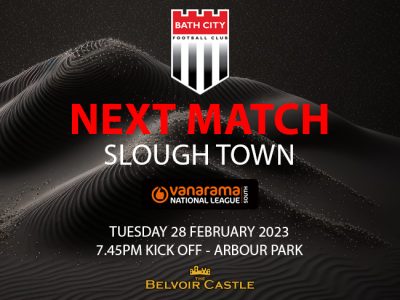 Next Match – Slough Town – Away
Following the past week's two home fixtures, City return to their travels on Tuesday evening when they head up the M4 to face Slough Town. After wins in their two previous away matches, at Chelmsford and Dulwich, they should travel with confidence.
Despite their surprise win on Saturday at St Albans, courtesy of two spectacular goals, our Berkshire opponents are not enjoying the best of seasons and hover just above the relegation spots in 16th place with nine points less than City. They are only averaging a point per match at Arbour Park and the 32 goals conceded there gives them the second worst home defensive record in the division. The Rebels have conceded at least three in six of their home matches and the 5-1 hammering by Eastbourne matched the score line when they visited Twerton Park back in August. In front of a Bank Holiday crowd of 1414, a hat trick from Cody Cooke plus additional goals from Alex Fletcher and Tom Smith provided City with their biggest win of the season so far. Apart from the miraculous blocking of a goal bound shot by Keiran Parselle, that match will also be remembered for the bizarre sight of the Slough players having to change their grey shirts for an old City away kit just minutes into the game due to a colour clash.
It would certainly be fair to say that this is not one of City's favourite hunting grounds in the league as in our ten visits to either Wexham Park or Arbour Park, since the first in 1990, we have yet to win, having picked up five draws. In fact the only away win in the sequence of nineteen league fixtures between the two clubs came at Twerton Park back in 1992. Hoping to preserve this unbeaten home record for Slough will be player manager Scott Davies who took over from the departing Jon Underwood and Neil Baker in November. The latter pair were in charge on the last occasion City were in town just over a year previously when a poor performance and a 2-0 defeat led to Jerry Gill criticising his team's start to the season.
The opening of Arbour Park in December 2016 was a major milestone for Slough Town, finally returning to their hometown after an absence of 13 years. They had vacated their former Wexham Park ground in 2003 and had been forced to ground share elsewhere until the new stadium was built. It is certainly a well-appointed ground with a particularly eye catching main stand providing an excellent view of the pitch. There is a smaller seating area on the opposite side while the small terraces behind both goals are covered. There is a large, comfortable bar in the main stand and it is possible to watch the match from the adjoining elevated veranda. The nearest pub is the Lemon Tree on Shaggy Calf Lane with many more in the town centre.
All you need to know about visiting Arbour Park can be found here.
Tickets are cheaper if bought in advance.
Unfortunately there was insufficient interest for a Supporters coach to run so those supporters wishing to drive can expect to take around two hours to cover the 95 miles. The train journey from Bath Spa will take around thirty minutes less, changing at Reading, with a fifteen minute walk from Slough station. Last season there were only four league matches played in the evening but remarkably this will be the tenth of 22/23 with two more still to come!
Hopefully as many supporters as possible will manage to get to Arbour Park but remember if you cannot, there will be full commentary provided by the excellent Bath City Radio station.