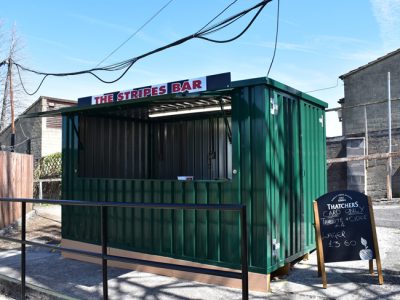 New Romans Bar at Twerton Park
Following the success of the outdoor Stripes Bar at the Bath End of Twerton Park this season, we are delighted to announce the launch of the new Romans Bar this Saturday serving drinks throughout the game for fans in the Grandstand/Bristol End section of the ground.  Supporters can find the bar in the corner between the Family Stand and Bristol End terrace, but please note that alcoholic drinks may not be taken into the Family Stand.
In a further development, thanks to our revised licence, users of the TR Hayes Lounge can now bring drinks out to the Grandstand in plastic glasses to consume during the match, although the bar will be closed during game time to minimise disruption of people moving between seats.
The Stripes Bar has been a huge success this season, generating significant additional revenue for the Club and giving fans more choice and an enhanced matchday experience. We hope that these new offerings will further improve things for both supporters and the Club. Thanks to everyone involved in securing our enhanced licence and setting up the new bar.