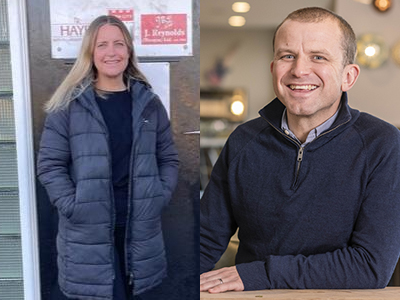 New Marketing/Commercial Board Members
The Board is delighted to welcome two replacement directors to cover both the Marketing and Commercial roles.
Caroline White joins us on the Marketing side with a wealth of marketing experience and is steeped in BCFC connections through her children, who are all very active footballers. She is also a Disability Football Ambassador across the county.
"With record crowds and so many exciting developments on the horizon, it is a really exciting time to join the Board at BCFC. I truly believe in the power of football to bring communities together both on and off-pitch,  and I am looking forward to being involved" says Caroline.
Joining as Commercial Director, Gareth Cooper will be responsible for the development of new and existing partnerships for BCFC and driving growth and revenue. Gareth is an avid supporter of BCFC and can be spotted in the crowds on most matchdays.
Gareth said, "I'm really looking forward to building on the excellent partnerships that have been forged with our local community, and also contributing towards the commercial growth of the club over the coming years,"
The Board would like to thank Jon Bickley for his tremendous support and effort in so many areas of BCFC over so many years, but especially in developing the sales and marketing side of the Club, doubling  crowd numbers in his time in the role.  The same gratitude goes for Peter Headington, who made a big difference in his role as Commercial Director and continues to do so much on the ground on matchdays and behind the scenes.
To have your say at the next Club and Society elections, make sure to join the Supporters Society for just £5 a year at www.bathcitysociety.org.