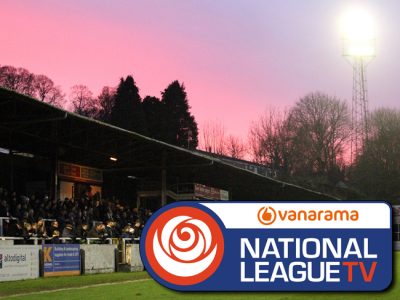 National League South Streaming Update
The National League is delighted to announce the rollout of National League TV to cover National League North and National League South division clubs for the new season.
All games not subject to UEFA Article 48 regulation will be streamed exclusively live on National League TV – this means all midweek and any other non-Saturday 3pm games will be permitted on the platform.
Since its full launch on Boxing Day last year, over 117,000 people from 57 countries have tuned in to National League TV, watching over 300 games. Ten test events were held last season to gauge the appetite for streaming in the North and South divisions – with thousands of fans streaming games.
The first round of North and South Divisions games to be streamed on NLTV will be on the week of Monday 14 August.
National League General Manager Mark Ives said: "It's great to be moving forward with our plans to stream National League North and South games domestically next season. It means over 300 extra games will be available to supporters on top of what is already a brilliant offering on our streaming platform. The games being streamed will be available to both domestic and international supporters. Attendance figures suggest streaming hasn't had a negative impact on crowds. In fact, our spectator base has massively increased over the course of last season. Across the three divisions, attendances were over three million last season, up by 22 per cent."
More details about how to purchase an NLTV Match Pass will be released before the start of the 2023/24 Vanarama National League season on Saturday 5 August