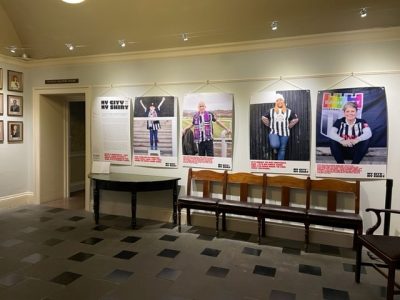 My City My Shirt now at the Guildhall
My City My Shirt, the portrait project celebrating the diversity of Bath City FC fans is continuing it tour of the city, now arriving in the Guildhall.
The project launched in May and aims to promote loudly, widely, and permanently the message of inclusivity and local identity across Bath.
It was first exhibited in the Summer at the club's home at Twerton Park and since then has been displayed at the World Heritage Centre in York Street, toured the city on a Park and Ride bus and guested at the Victoria Art Gallery.
Local photographer Nick Smith created the portraits for the project, a partnership between Bath City FC and anti-discrimination organisations Fans for Diversity and Kick It Out, with support from Bath & North East Somerset Council.
The photos were taken at significant Bath locations and convey what being part of Bath City FC means to the portraits' subjects both through the image and through their personal thoughts displayed below it.
Thoughts like: "I love that all the players and the managers talk to you", "It's so inclusive", "It's so friendly" and "There's a real sense of belonging" capture the strong sense of community at the club.
After its tour of the city, the exhibition will be placed on permanent display at Twerton Park to highlight the club's inclusivity message now and in the future.
Jane Jones, Bath City FC's Community Director, said: "These portraits, and more importantly the stories that they represent, are a great celebration of all that Bath City FC has to offer in terms of being a welcoming, friendly club that celebrates the breadth and depth of all our community. We are thrilled that the portraits are now enjoying the spotlight in the prestigious setting of the Guildhall on the latest stop of their tour!"
You can catch the display at the Guildhall until Thursday 22nd December.