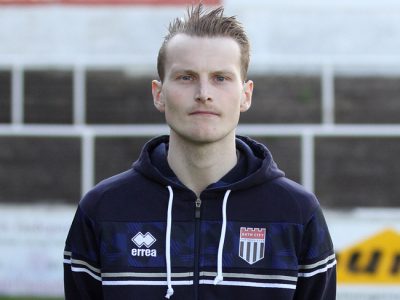 Meet the Team – Carl Carpenter
We caught up with new Bath City performance analyst Carl Carpenter recently to discuss his role at the football club and he gives us a little insight into the numbers behind the data.
Can you introduce yourself briefly to Bath City fans, what is your background?
"I'm American, so I played in the US college system before playing in the second division, briefly moving into coaching/analysis. I was a goalkeeper so I first got my coaching badges in that category. I was always interested in video/data work which was growing more and more popular. My local university team, the University of Virginia, was looking to replace their performance analyst and, luckily enough, my friend was the one who was leaving that role. He recommended me to the coaching staff and I've been working in analysis ever since 2017."
What is your role at the football club?
"My role is a performance analyst – which is a hybrid role that utilises video and objective data to help the coaching staff determine tactical/individual reasons for performance and hopefully use this information to improve results and plan for opposition."

What does the role involve?
"The main part of my role at Bath involves video analysis. I breakdown full matches of our upcoming opponents and put together a scouting report. I always mix in data that is compiled by StatsBomb (the football data company I work for full time) to give context to these clips. During the match I'll connect to a camera and live code the game – meaning I can send clips to the bench live during the game and at halftime. Minutes after the match is concluded these tags will be available for players and staff to view. I'll also make playlists for every single player on the Monday so they can see how they themselves can improve."
How closely do you work with Jerry Gill and the management team?
"I work very closely with the coaching staff. Ultimately my role is to support their day to day, on the pitch roles so that my work is intended to provide actionable insight. Essentially: how can the staff plan training through my analysis, and how can we shift the tide of the match in our favour?"

From your work so far, what has impressed you most about this Bath City team?
"While this is obviously a semi-professional club, the professionalism has impressed me. Ultimately, regardless of the level you play at, you want to win – and these players take coaching/analysis on board because they know it's meant to help them."
Are there any stand-out stats you can give us about the team or individuals?
"Looking back at recent seasons, there have been some constants about Bath City: our ability to press high up the pitch and convert these pressing opportunities into goal-scoring chances."
As well as looking at our team and the opposition do you play any part in scouting potential targets or is that a different area?
"Yes! I do. Obviously, at National League level the quality of data isn't high or even available so most of my work is watching and preparing video for the staff to look
at, as well as providing my feedback on how I think this player would translate into our system of play, depending on their role."