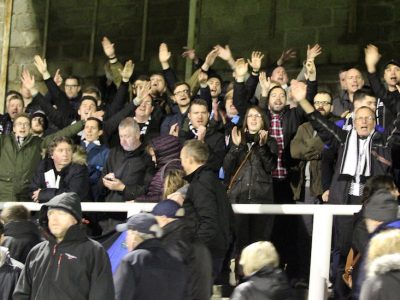 Meet the singers – and join them!
We took a moment to talk to Ben, Chris and Blain from the Popular Side Singers ahead of this Saturday's big match against Torquay United.
So you're the part of the core group of singers who can be seen home and away getting behind the team – when did you first start doing this?
We started standing and singing together properly in 2009 when we beat Grimsby in the FA Cup 1st Round. It all started there really.
The fans have some great songs, what's your favourite?
One of the ones that we do enjoy singing is Can't Help Falling In Love With You at the end of a good win. That always seems to be sung very loudly!
Where do they come from?
The pub usually. After a game we usually head to the pub and can often be found joking around with how to fit players names to songs! Some players have betters names for songs than others (sorry Frankie!)
What hasn't worked?
We seem to get a lot of people stand with us when we're shooting towards the Bristol End, but not so much when it's towards the Bath End. We're not scary and we don't bite – we love having new people stand with us and we'd love more people to come and join us for games, whether it's home or away!
What's the best one to get the fans going?
It's hard to say, it really depends on the game! A lot of the quick chants – Give Me A C, Hey Jude etc. – work well to give the team a quick lift and get people involved.
Any message to the rest of the fans?
Come and say hello to us – we're honestly really lovely people! We're by the flags at the Bristol End or by the loos when shooting towards the Bath End. Come and help us make some racket at the game – bring your black and white scarves and help us make some noise!