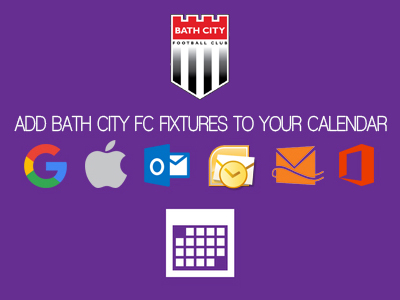 Make sure you never miss a date with Bath City FC
Do you want a date?  Or several dates in fact.
Its never been easier to embed all Bath City FC fixtures into your work or personal on-line calendar – or both.  It takes seconds.  Simply click on the button below

chose your calendar type, complete the details and your on-line calendar will automatically subscribe to the City fixture list.
This is a one-off action which means that all cup draws and re-arranged fixtures will appear in your calendar automatically.  On your phone and on your desktop.  The events created contain ticketing details (for home matches) and links to the City website and Shop.  Never miss a match.