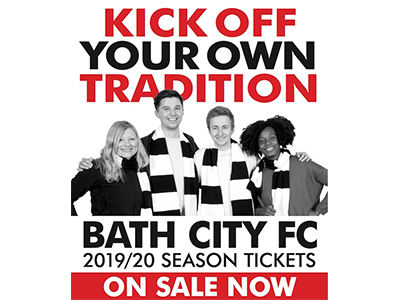 Make payday weekend time to buy your 2019/20 Season Ticket at the guaranteed lowest price
Is it that great time of the month for you when the month's pay has just landed? If so, now could be the perfect time to order your new season ticket.
We're holding Season Ticket prices at 2018/19 levels until 30th April to allow you to lock in that guaranteed lowest price. We haven't set 2019/20 matchday entry prices yet but, whatever the case, if you buy now you'll pay an average of just £10.48 per match (adult). Season Tickets will not be available to buy at lower prices at any time.
Order yours now and secure your saving of up to £53 – that's four FREE matches (and a Mars bar).
PLUS – every order before 30th April gets FIVE free drinks vouchers and a £5 Club Shop voucher.
2018/19 has already been a fantastic season and, with the team now in the play-offs, it's just become even better. Crowds are up 59%, averaging over 1,000 – and you, the fans, have been a massive part of that. So please help keep the momentum up by signing up now and being part of the 2019/20 adventure!
Adults – £220 – save £53 v full price entry Buy now
Senior (65+) – £170 – save £40 Buy now
Student/U18 – £120 – save £27 Buy now
U16 – £20 – save £22 Buy now
Buy online now or call 01225 423087 or buy at the Club Shop (10am-3.30pm weekdays).
PS – Thanks if you've already ordered your season ticket – they'll be available to collect at pre-season friendlies in July.