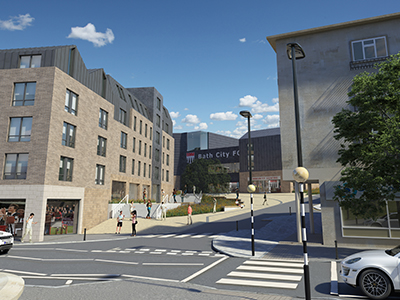 Less than 24 hours to vital planning meeting
There are less than 24 hours to go before Bath City's vital redevelopment scheme goes before the Bath & North East Somerset Planning Committee. Although the planning officer has recommended rejection, we believe his conclusions are based on technicalities which can be overcome. So it is still very much in the power of the Planning Committee members to make their own judgement, consider the greater benefits and approve our application.
Approve – secure Bath City's future in Twerton with all its social, sporting and charitable benefits, and introduce nearly 50 new affordable housing units and £50m+ investment into Twerton
Reject – risk Bath City leaving the city and leaving Twerton and the stadium site to an uncertain future, without the positive influences of the Club – there is no guarantee we can try again
What to do:
Contact members of the Planning Committee explaining what you think securing the future of Bath City FC and the investment in Twerton means. You can find details of the members here
Come to the planning meeting on Wednesday at The Guildhall. Arrive from 1pm for 2pm start in full Romans colours. We have banners for you to display and will have Club flags with us.
Whatever happens on the day, please ensure we all represent Bath City in the best possible way. We must show the positivity of our support for our Club regardless and not let ourselves down.
Thank you for your support – and we'll see as many of you as possible tomorrow.