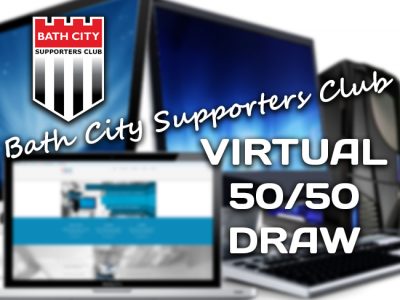 Latest Supporters Club 50/50 Virtual Draw this Saturday
We hope that you and your family remain safe and well.
Many thanks to everyone who has purchased tickets for tomorrow's draw. But there is still time if you have yet to do so with the deadline at 3 pm (Saturday 23rd)
This fundraising initiative has attracted excellent support from City fans with over 100 entering two weeks ago and the average prize from the three draws held so far stands at £263!
Remember that all profits are paid by the Supporters Club straight to BCFC. 
All of the details, terms and conditions can be found here
https://bathcityfcsc.com/virtual-50-50-draw/
The winner should be announced on that page by Sunday evening.
And just a reminder to please use Easyfundraising when you shop online. The total raised on behalf of the Supporters Club recently passed the £1000 mark. You can sign up by clicking on the link below.
https://bathcityfc.us12.list-manage.com
Good luck!
The Committee, Bath City Supporters Club