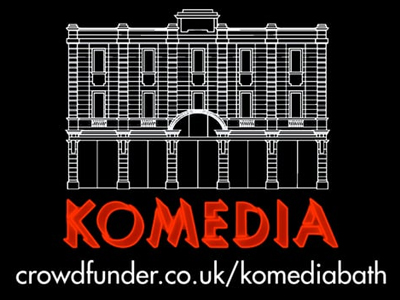 Inspired by the innovative idea of community ownership embraced by both Bath City and The Bell, Komedia Bath is in the process of converting to a Community Benefit Society in order to secure a vibrant and sustainable community-centric future for the historic Westgate Street venue.
A long-time supporter of Bath City, Komedia is looking to raise a minimum of £350,000 via their Crowdfunder campaign which will run until Wednesday 13th December. They have already exceeded £100k and have garnered support from the world of comedy and music, as well as local businesses and lots of individuals who care passionately about the initiative.
Since 2009, 750,000 performers & punters have passed through Komedia Bath's doors. If just 1% of these people donated £25 to the Community Ownership bid, the venue would hit its target in a matter of days and be able to get on with keeping you all laughing & dancing for many years to come – it really is that simple! Whether you're a performer, gig-goer, comedy connoisseur, or you just like to downright funky on a Saturday night, you are part of the community that Komedia Bath's future now depends on.
The venue is accepting investments of £250 upwards, which will entitle the investor to co-ownership of the business, tax benefits, a 3% ROI and a whole host of other tailored benefits and goodies. Donations of lower than £250 are also received with thanks in the form of a membership discount card, special offers and a Komedia goody bag!
Please invest or donate here: http://www.crowdfunder.co.uk/komediabath and don't forget to spread the word!