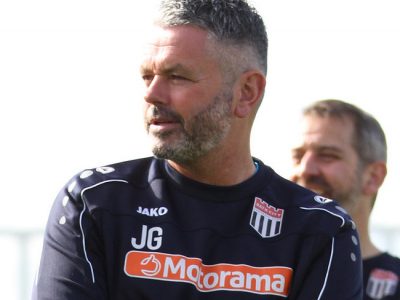 Jerry's thoughts after the festive fixtures
Jerry gave his thoughts in the programme ahead of the now postponed match v Chippenham:
Happy New Year to everyone associated to Bath City Football Club. What a difficult year 2020 has been for us all in regard of normal day to day life and certainly in the football world. Let's all hope and pray for a Happy, Healthy and Successful 2021.
If I am totally honest, it has been so hard to solely focus on the team and football in general. The way life has been for
us means that we have all had daily worries and concerns, which naturally effects our daily routines and the way we live in the new world. Football has been the only release and we have stayed professional and focussed as much as we can during these difficult times. Players missing through positive Covid tests and others in isolation have not helped build team cohesion. Breaks in the games programme, along with no fans at home games, has had a huge effect on us as a football club.
As we enter the new year, I really feel that this squad of players can put a consistent run of results together 
and climb the league gradually. The performance levels over the past six weeks have improved vastly and it's a matter of time before all the hard work we continue to do with the group of players is seen in our points return.
In the reverse fixture on Boxing Day at Chippenham, we came away really disappointed not to take all three points. We dominated possession and had enough really good chances to win the game comfortably. Stats don't lie with us, having 16 efforts on goal compared to their 9. 78% possession in our favour completing 535 passes compared to their 96. That indicates how the game looked. Credit goes to them on how they defended the 18 yard box but we need to be more clinical with those efforts on goal.
Last time out here v Hungerford, the game followed a similar pattern to the Boxing Day one, with us camped in their half for long periods. I do however feel that we aren't defending the 18 yard entries well enough. The first goal especially was very poor from our point of view. Again we had enough chances to win the game. The turning point being a very good corner routine we scored from being wrongly disallowed for offside. Officials really need to make sure they get the big calls correct.
I really do hope to see you all soon, take care and stay positive.
COYR and Happy New Year.
Jerry