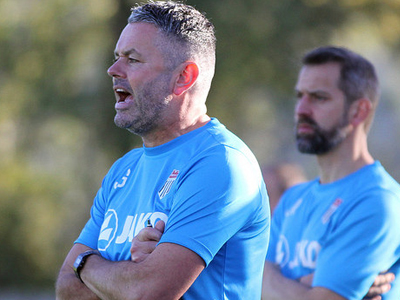 Jerry's pre-season thoughts
Jerry Gill checked in this week to tell us what's been happening in pre-season training and his thoughts ahead of Exeter at home this Friday and a high quality series of fixtures against EFL opposition.
"We have now completed our fourth session of pre season which has consisted of mainly football conditioning sessions along with the inevitable running drills which are specific to the game. The players have also gone through varied fitness testing which gives us a benchmark as to what they have done in the closed season and to monitor them during the long season ahead.
Our base up until the start of September is the amazing facilities at Bath University. We get full use of the grass pitches, gym, changing facilities and hydro pools whilst up there which allows us to give the players a great environment to work in.
All the players and staff are due to stay on a three day camp at the University starting this Friday where we will be able to drill down in more detail our aims and ambitions for the new season. Its very much a working three days with the game v Exeter City along with conditioning football, gym, track and hydro pool sessions.
We will hold individual player meetings and talk in detail on what their ambitions and ideas are going forward. All the players have a voice and we encourage their interaction.
I am very excited to see how the new players gel within what is already a competitive squad. There will be a few trialists on show over the course of the pre season and I am hoping to maybe bring in two more players which will be loan deals from a Premier League and EFL Club.
We encourage you the fans to come along to these fantastic games during pre season at Twerton Park and share our excitement in playing against strong EFL first team opposition."