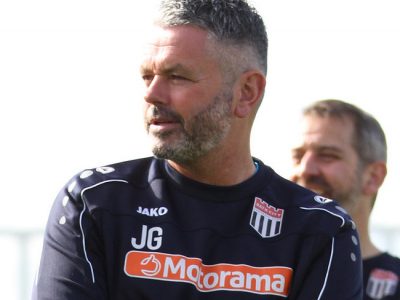 Jerry Gill spoke to Mark Stillman after Tuesday's trip to Dorking Wanderers was postponed due to a player testing positive for Covid-19, with Saturday's away match at Concord Rangers swiftly following suit.
The City boss analysed the season to date, how he intends to get the Romans back on track and the situation which led to last night's match being cancelled.
MS: When were you aware that the Dorking match could be in danger of being postponed?
JG: Three players had reported a loss of smell and taste by Sunday. We informed our medical officer and Shane Morgan, our Covid officer, and went to the National League. It was obvious to us after the positive test that it could have been spread among the camp. We had to consider whether we'd be comfortable travelling to Dorking on a coach. It's pretty difficult to social distance on one. I thought the league came up with the right conclusion to postpone the game. You don't want to put others at risk on the pitch. There's contact with players coming up against each other. The health and staff of the players is paramount. We don't know how many have it in our camp, that's the worrying thing. We have to make sure everyone is healthy and well. I feel fine myself but you get a bit of anxiety and paranoia when you know someone close by has it. There's a lot more now around the west country, obviously Chippenham was off too and Bristol City have had cases.
I believe people are saying there's no transparency from the club and not being up front about which players are affected, but this is a private matter. It's for us in-house to deal with. It's up to the individual if they'd like the information put out there, they are so important in this. When it's affecting their personal life and is something which is private, we shouldn't have to reveal who it is. We do things really well at our Football Club.
What has been the procedure since then?
We've had a hectic few days with plenty of communication across other football clubs. Obviously we've had to let all the clubs know where we have players on loan from – Bristol City, Rovers, Torquay and Walsall. We did that immediately as well as getting in touch with Hemel Hempstead, that's the league protocol. We've also been in touch with clubs who we are supposed to play in upcoming weeks and as you've seen today, it has led to the Concord match also being postponed.
The players were tested at Twerton Park today. It's a case of the boys turning up at their set time in their cars, putting the window down, getting the test. We used a company in Guildford for testing when the play-offs were on. It'll then go back there on a courier. They get it turned around really quickly but we can't guarantee we'll get the results back by Friday. We are on priority but with what's going on in the country there's a lot of testing going on with this being the second wave.
You'll be in isolation for the time being after your test today. How will you be spending your time?
I watched a game on iFollow on Tuesday regarding potentially bringing someone in, I spoke to their club's head of recruitment afterwards.
I'll use this time to reflect on where we are. I can make some decisions on players, whether we need to send some out on loan or strengthen in certain areas, maybe fewer loans and more permanents if that's feasible. It will be back to the zoom rooms and communications from our WhatsApp group between us and players for now. There is lots for the players to look at through Statsbomb and Hudl, maybe a time for them to reflect as well.
I don't like seeing us the way we are currently, it's not a product of what I want us to be. We want to get back to a firm base and become hard to beat again. We're only five games in in the league, there's plenty of time to turn it around.
You hinted about bringing in new players, I understand you've made a few changes staff-wise?
Our sports scientist Kit Barnes is now with Bristol City full-time which is brilliant for him, we love developing staff as well as players. It's so important to us.
We have a new sports science team in Hallam Cousins and Ella Porter. They're both fourth year students at University of Bath. They are fantastic people, they'll be working around the GPS data we obtain from players and be with us on matchdays.
How challenging has this season been?
I've had a lot of sleepless nights because it matters to me. Not sleeping as much means my mind is ticking so that's not always a bad thing. I just want us to work harder.
This season has been unique. As a football manager you get challenges throughout a season and in your career. Lots of ups and downs. I always believe that the low points make you what you are at the end of it. If you're successful it's because you've been able to meet those challenges. I had many as a player and was very proud of what I was able to achieve.
At Bath we've had success on and off the pitch. We can talk about that until we're blue in the face. There's not a lot of negativity. People may say about not being promoted but getting in the play-offs in the last two seasons is no mean feat with what we work with.
Where we are at the moment is not acceptable. We feel like a lot of things have gone against us. I haven't been able to get my best team on the pitch yet this season due to a lot of circumstances. We know we need to get some points on the board. 
What needs to be worked on specifically for when we return to action?
I've got some things on Statsbomb to go over the five games. We'll come up with some real data and work out what we've not been as good at. One which stands out is teams are having far too many efforts on goal against us. The expected goal ratio on Saturday was 2.5 for Hemel and ours was 0.4. I think we'll be fine up top. One positive has been Donovan Wilson. I don't like singling out players but I think he's been terrific and will only get better. He's been a really good find.
We had twice as much possession as Hemel and made nearly 500 passes. Look at our goal – there was incision, patience, just a few passes in it. It was purposeful, it looked like a Bath City team. Our pass completion rate is up to over 70 percent, which is really good but you have to be effective. If you're just kicking it across the back for the sake of it that doesn't really work, it's not the way we play.
Defensively we're not stopping crosses or shots on goal. Teams are playing through us too easily. We're giving away far too many fouls which means there's going to be more efforts coming into your box. That's what we need to eradicate. I'm going to come up with a five-game package on all areas of our play to work out what we're doing well or not so well.
We're not getting smashed in games. We finished so strongly at Dartford for example, we were creating chances. We've earnt a little bit of money from a mini cup run which is great but priority now is the league and that everyone sticks together to get us back up the table to where we know we should be.