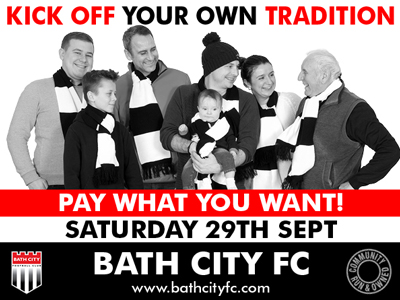 It's Community Day – Pay What You Want – This Saturday
Our Community Day is back and it's 'Pay What You Want' at the turnstiles! It's 5th vs 4th at Twerton Park as an in-form Romans side takes on Welling United in the Vanarama National League South. Kick Off – 3PM!
The Community Day attracts one of our busiest crowds of the season and we're pulling out the marketing stops to draw a big crowd with support from FirstGroup Buses, promotional presence at Southgate and the two university Freshers Fairs, school visits and an extensive leaflet drop. So make sure you plan to be there and to bring your friends and family!
On the day we'll have:
Bath City Inflatable Shootout
Bath City Youth U7s & U11s football on the pitch at HT
Free foam footballs for the first 200 kids
Free footie clappers for everyone
Special Bristol Airport VIP Packages up for grabs
Face painting
Bath City Farm visit
Pop-up food – Apple Orchard Catering & Have a Pinch crepes and coffee
Pop-up Bath Ales Gazebo with Gem and Stan's Big Apple cider
BaNES Public Health Heart Age testing
Great Western Air Ambulance Charity Mascot
Great Western Railway Info Stand
Post-match MotM interview and Jerry Gill Q&A
Chelsea v Liverpool in full on TV from 5.30
Charlie's Bar with Guest Ales
We have a free mini-keg of scrummy Bath Ales Gem to give away. Just come to Charlie's after the game, grab your free raffle ticket, and watch Jerry Gill pull the lucky winning ticket.
10% of gate receipts go to Great Western Air Ambulance
… and the football – we've won four in a row at home – can we make it five?
Looking to drive? You can park at Twerton Park but do arrive early for best availabity! Our overflow car parking can be found at the address below:
Curo
The Maltings
River Place
Lower Bristol Road
BA2 1EP
It's a four minute walk from there to the ground and will cost just £2. Note – the car park will be locked at 6:30pm.