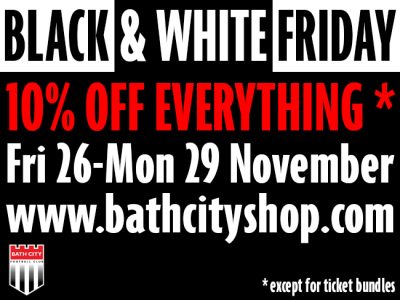 It's Black & White Friday Weekend
It's Black & White Friday Weekend
SAVE 10% off all Merchandise
Get 10% off all Bath City merchandise this special Black & White Friday Weekend, including replica shirts, scarves, mugs, hoodies and more. Just start shopping and enter code BLACKANDWHITE21 at the checkout to receive 10% off your whole basket.
Shop now for the best selection of stock and sizes.
This offer excludes P&P as well as ticket bundles.
You can choose Click & Collect for pick-up this Saturday.