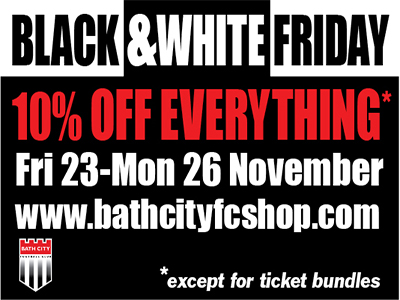 It's Black & White Friday – SAVE 10% on all City Merchandise
Get 10% off all Bath City merchandise for 24 hours ahead of everyone else this special Black & White Friday Weekend, including replica shirts,  new scarves, mugs, hoodies and more…
Just start shopping and enter code BLACKANDWHITE at the checkout to get 10% off your whole basket.
If you don't need delivery, please call the Club on 01225 423087 this Friday 23rd or Monday 26th ONLY to make your purchase and arrange to pick it up.
This offer excludes P&P as well as ticket bundles.