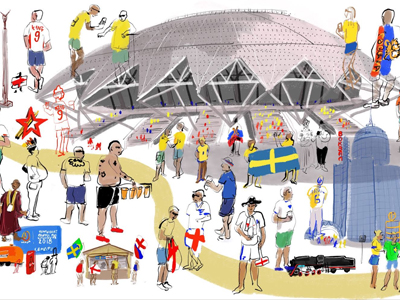 Illustration and the World Cup: Russia 2018 under the spotlight
In 2018 illustrator Tim Vyner, Senior Lecturer in Illustration at Bath School of Art and Design, Bath Spa University, was commissioned by the Daily Telegraph to travel to Russia and complete an image a day illustrating the 2018 FIFA World Cup.
Tim is an illustrator who travels the world drawing life as he experiences it on the vibrant streets of our cities and you can join him for an evening lecture which tells the story of how illustration can capture the live narrative of what happened and how drawing can contribute to the visual legacy of international sporting events.
Tim is most effective on location with a pen and sketch book. He records global sporting events, documents diverse communities and tours public museums. He works for galleries, publishers, newspapers and private collectors and has covered World Cups, Olympic Games, busy national events under the spotlight and private monastic communities far from the media gaze.
The lecture will begin at 7pm at Burdall's Yard, 7a Anglo Terrace, Bath, BA1 5NH on Friday 28 September 2018. The bar will be open and serving drinks from 6.30pm, and a number of Tim's illustrations from Russia 2018 will be on display.
The Empathy in Art lecture is part of FUTURES, a series of free events taking place across Bristol and Bath to celebrate European Researchers' Night on Friday 28 September. It has been organised by University of Bath, University of Bristol and Bath Spa University.
Find out about more FUTURES events here: http://FUTURES2018.eventbrite.com
European Researchers' Night is funded by the EU Commission and aims to engage the European public in celebrating the latest and most stimulating research at a local and an international level. Simultaneous events will take place in over 300 cities, spanning 24 European countries.