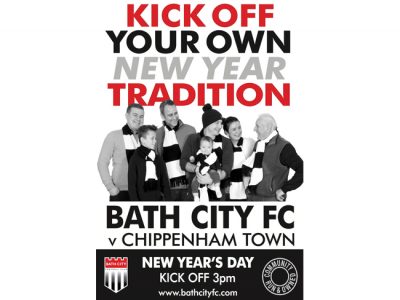 Help us attract a bumper New Year's Day crowd v Chippenham
We're aiming for a bumper crowd for the New Year's Day visit of Chippenham Town to Twerton Park – and are asking for your help to attract as many people as possible to this crucial local derby.
Sign up now to distribute a minimum of 100 flyers to your neighbours
Last season we had 1,254 for their visit on a Tuesday night in August, but this season we've already seen crowds of 1,022 for Weston-super-Mare and then 1,585 for Welling on Community Day. Can you help us top that?
As well as already arranging banners around the city and posters in shops and on the buses, we're asking you – our fans – to distribute flyers to your neighbours. We're printing a minimum of 5,000 flyers to post through letterboxes and ask that you volunteer to deliver 100 in your local area. Of course you can deliver more than 100 if you like and you could make it something you do with friends or younger family members – the more the better.
Please register now, letting us know your postcode so we can avoid overlapping distribution areas, and you can collect your flyers from the Club Shop on Saturday (or from the office on Friday). Please note you must be over 18 to register.
This is a vital festive period as Jerry and the team seek to consolidate a place in the promotion chase – please do your part to help build as big a crowd as possible! Thank you.
PS – We'll look forward to seeing you at Bath City v Chelmsford City this Saturday for the last home game of 2018!