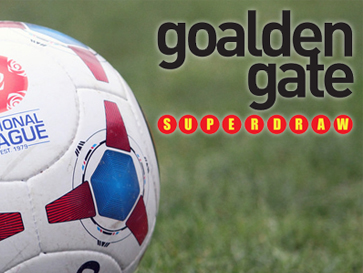 Bath City FC Lottery – the
Goalden Gate Superdraw
Did you know that you can win big cash prizes by becoming a Member of the Goalden Gate Weekly Draw?
For just £1 per week, the draw sees someone win a top prize of £1000 EVERY WEEK as well as numerous consolation prizes.
So, as well as helping your favourite local team, you can also give yourself opportunities to win some great cash prizes.
The Goalden Gate Superdraw offers you the chance to win 60 weekly cash prizes whilst raising funds for Bath City FC.
Every week someone wins £1,000!
PLUS, your date of birth, or a random date if you so wish, is entered into an accumulator jackpot
where you can win £100. If there are no winners selected that week, the prize will rise by £100 every week until somebody wins.
From just £1 per week it's also a great way to support Bath City FC as with every ticket you buy, Bath City FC will receive 45% of the money.
The Goalden Gate Superdraw is run by the Midland Sporting Association and licensed by the Gambling Commission
License Number 000-005093-N-307917-001
Easy to play
For each £1, you get 10 lucky numbers.
The numbers are drawn every Monday and you've got a great chance of winning £5, £10, £25, £50, £75, £100, £150 or £1,000!
To take part in the Goalden Gate Superdraw – DOWNLOAD THE APPLICATION FORM HERE
Then send it to:
Midland Sporting Association, Waterloo Road, Wolverhampton WV1 4QR
Interested in becoming an agent?
IF YOU CAN SPARE A COUPLE OF HOURS PER WEEK AND ARE AGED 16 OR OVER, WHAT ARE YOU WAITING FOR? JOIN THE TEAM TODAY.
COMMISSION PAID. FOR MORE INFORMATION CALL US ON 01225 423087 / 07786092836 or email info@bathcityfootballclub.co.uk