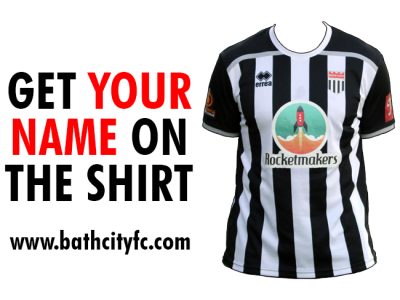 Get your name on the shirt 2022/23
We are now inviting businesses to join the 2022/23 Bath City Football Club Sponsor's Club and take part in our Shirt Sponsorship draw for next season.
Members have the opportunity to win a number of high profile prizes through this free draw. The top prize is being named as a shirt sponsor and to have the name of your business or organisation emblazoned on the front of our first team shirts – seen by a great many people in Bath and across the South of England, on our extensive web, Facebook, YouTube and twitter channels and potentially regional or national television.
Following a season of disruption caused by Covid-19, the last draw took place in June 2021 with 60 entries with the winners, Rocketmakers, having had their name on the Bath City shirts for season 2021/22, whilst Minuteman Press had their name on the back of the shirts with Dorothy House on the shorts.
Download details here or contact Bob Chester for more information at info@bathcityfootballclub.co.uk or call 07786 092836.
Terms and Conditions:
Bath City FC Sponsors Club Membership
Bath City FC Sponsors Prize Draw