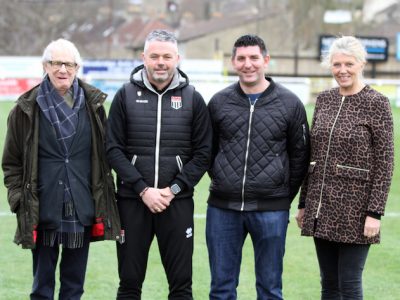 New appointments at Bath City FC Community Sports Foundation
Bath City FC's charity continues to grow, welcoming Ken Loach as President, Team Manager Jerry Gill as Coach Director & Community Ambassador and Geoff Stevens as Project Manager. The group gathered in front of City fans before Saturday's match against Wealdstone to mark the appointments.
Chair of Trustees, Helen Donovan, said "We are delighted that Ken Loach has agreed to stay involved with The Foundation as our President. He is a loyal fan of Bath City FC and has been involved with the Foundation for many years.  His experience is invaluable."
Donovan added, "Having Jerry on board is a real boost to all of us, but especially the children and families he works with at Southside Hub in Twerton.  We have identified the importance of developing the 'Bath City Way' for coaches through all the Bath City FC affiliates and Jerry is leading on this with Foundation coaches.
Helen concluded, "Geoff Stevens comes with a wealth of experience as a coach and project manager in Community Football. His input will expand our capacity to work with the community, especially in developing a pathway for girls and women's football in Bath. Geoff is also leading on the Man v Fat programme which launches later this spring."
Keep up to date with the Foundation on Facebook and look our for a new website later in the year.