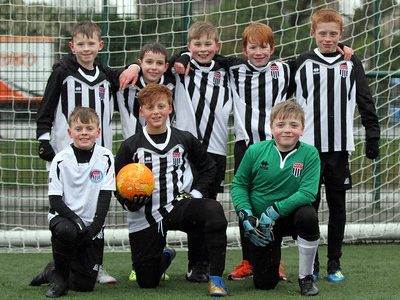 Foundation hopes to offer life-changing opportunities to wider Twerton community
Bath City FC Foundation is hoping the redevelopment at Twerton Park will serve as a catalyst for the charity's future growth.
As part of the ambition that the redevelopment should benefit local residents, Bath City FC Foundation is aspiring to deliver more than 20 life-changing sport, health and wellbeing programmes to Twerton and surrounding areas if the application is approved.
The Club's redevelopment proposals will provide both administrative resource and pitch use to the Foundation so that they can expand their programme of activities.
The Foundation's existing work has garnered support from the National League Trust (NLT), Somerset County Football Association and Bath College.
Its Dream Big programme, which delivers holiday activities to bring together families in neighbouring streets in Twerton, is funded by housing association Live West.  Initiated by two local mums who were concerned that their children didn't have enough to do in the school holidays, it has developed into a term-time programme at St Michael's Primary School and Pennyquick Park with active sessions aiming to promote healthy lifestyles, fun and friendship. In the school holidays, working in partnership with FareShare, the Dream Big Programme ensures all children who attend get a free lunch.
Bath City Foundation also works in association with local charity Bath Mind to support adults who have mental health concerns to encourage physical activity, fun and friendship.
The Foundation also aims to address the health and wellbeing issues identified in the area. Sport England indicates Twerton has the lowest adult participation in sport in B&NES, with 20.92 per cent of people in this area having a long-term health condition.
Should the Club's redevelopment proposals be successful, members of the public will continue to be able to access funded activities and support such as walking football, holiday clubs and healthy lifestyles programmes which are held throughout Bath, including Odd Down Sports Ground and the Recreation Ground.
The Club's plans will provide stability and a long-term Community Hub for the Foundation to expand its work with disadvantaged adults and children.  Being based at Twerton Park will allow it to continue its outreach schemes in the local community and strengthen its relationships with other third sector organisations in the area.
Helen Donovan, Chair of Bath City FC Foundation, said, "At Bath City FC Foundation our team has worked hard to become a driving force in providing sport and physical activity programmes that deliver a positive social impact to Twerton and Bath. Our ambition is to continue to work with the community around Bath City FC's ground in Twerton to give opportunities for children, young people and adults to engage in quality sporting activity to effect change in their lives. We have aspirations to establish ourselves as a central hub in the area to bring together all relevant organisations and individuals working within the sector. The regeneration of the grounds will provide us with the space and facilities we need to reach our goals and allow us to increase the number of community programmes we offer.  Currently we have 600 beneficiaries on our programmes.  Our ambition is to increase our fundraising and provide opportunities for more children and adults to get involved with health and wellbeing activities. The programmes run through the Foundation have a profoundly positive effect not just on the service users, but also on the volunteers* who give their time so generously for the community. We hope that the Club's planning application will be successful for the benefit of so many people, not just in Twerton but throughout the city."