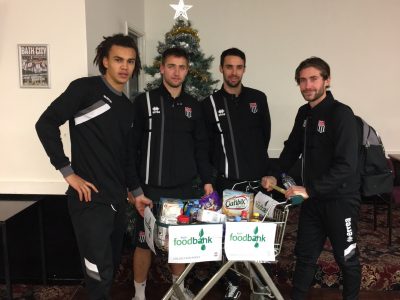 Bath City FC Foodbank Appeal
Thanks to everyone who brought food or cash to our appeal before the Bognor Regis match. As well as donations of cereal and soup, we've been pledged a fan's Winter Fuel Allowance of £200 as well as the proceeds of another fan's family swear box! Please do what you can to help local people in their hour of need in one of two ways:
1. Bring food to the Club on Boxing Day and drop off in Charlie's or the Club Shop. Bath Foodbank are looking for tinned fruit, instant noodles, sponge puddings, long life milk, tinned meat, instant coffee and chocolate (they have plenty of baked beans, sanitary products and sugar!).
2. Make a donation. We already have over £200 pledged – can you help to make this a happier Christmas season for local people in need? Donate now