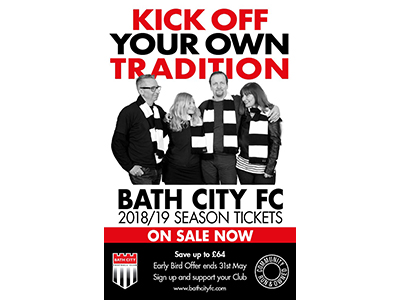 Early Bird Season Ticket Discount Extended to 31st May
With all the attention that's been focused on the 3G discussion and ground redevelopment consultation, the Club Board has agreed that it would like to give you, Bath City's fans, more time to take advantage of the Early Bird season ticket discounts. We'd also like thank everyone who has already signed up – your support is much appreciated.
Regardless of the extension, today's still a good day to renew or buy your season ticket – it's payday for many – but you now have a little more time if you'd like it. Here's the deal:
Get four matches FREE and support your Club with your commitment to the team. For Adults it's just £220 compared with the 21 match ticket price of £273 – Save £53. EARLY BIRD DISCOUNT – SAVE AN EXTRA 5% WITH OUR EARLY BIRD DISCOUNT – PAY JUST £209 UNTIL 31st MAY – SAVE £64!
PLUS Extra Benefits
As part of our recognition of the support you give the team, we want you to get more out of your Club and your season ticket commitment. Buy now and get the following extra benefits:
£5 Bath City FC Shop Gift Voucher
Three FREE drinks in the Club bars (soft/beer/cider/wine)
Adult – Early Bird price – £209 – Save £64 – buy now
Senior (65+) – Early Bird price – £161 – Save £49 – buy now
Student/U18 – Early Bird price – £114 – Save £33 – buy now
Under 16 – Early Bird price – £19 – Save £23 – but now
Join us and be with the team for every kick, every goal and every victory!
Apply online, pick up a form in the Club Shop or download one, or call 01225 423087 and guarantee your savings now.