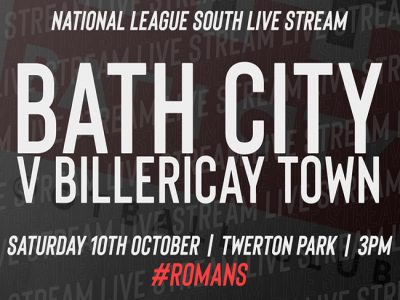 Details on the Live Stream of Bath City v Billericay Town
It's our first home league match of the season tomorrow and manager Jerry Gill will be looking to the team to establish strong home form at Twerton Park. After coming out winners in their lively FA Cup tie against Winchester, The Romans succumbed to two free kicks at Oxford City – so Saturday provides an early chance to get points on the board.
The match will be live streamed from 2.40pm. We have replaced the equipment that made last Saturday's stream fail, as well as upgrading other parts of the set-up, so are hopeful of a better service this weekend. Everyone who paid for a stream last week will be contacted and given a free pass and season ticket holders will also be issued with free passes for the season. If you don't fall in either camp, please register now to watch the match from home.
Buy pass 👉🏼 https://bit.ly/36IUbB6