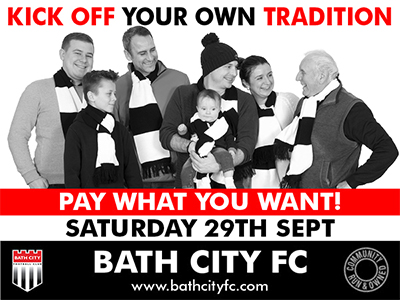 Community Day – Pay What You Want – Saturday 29th September
Bath City v Welling United
Pay what you want!
More details have been announced of our Community Day on Saturday 29th September – our Pay What You Want fixture against Welling United. This traditionally attracts one of our busiest crowds of the season and we're pulling out the marketing stops to draw a big crowd with support from FirstGroup Buses, promotional presence at Southgate and the two university Freshers Fairs, school visits and an extensive leaflet drop. So make sure you plan to be there and to bring your friends and family.
On the day we'll have:
Bath City Inflatable Shootout
Half-time youth football on the pitch
Free foam footballs for the first 200 kids
Free footie clappers for everyone
Guest food stall
Special Bristol Airport VIP Packages up for grabs
Face painter
Pay what you want to enter
10% of gate receipts go to Great Western Air Ambulance
and the football – we've won four in a row at home – can we make it five?
Fun starts at 1pm – match kicks off at 3pm.
Want to help make it a great day? We're looking for sponsors to help underwrite the gate, allowing as many people as possible to attend the match regardless of their financial position – contact Bob Chester to find out more info@bathcityfootballclub.co.uk. Our thanks to Sitec, Anthem Publishing, Curo, Great Western Railway, Novia Financial and Bath City Exiles who have already agreed to support the day.
We'll also need extra volunteers on the day including turnstile operators and general assistants – please get in touch at info@bathcityfootballclub.co.uk.
Whatever you do – make sure you're there for what promises to be a brilliant day.