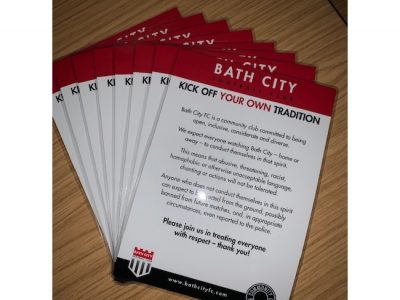 City launch new Supporters Code of Conduct
Bath City has published a new Supporters Code of Conduct that it asks supporters to follow home and away from Twerton Park.
The Code is intended to make everyone feel welcome at our ground and around our fans on their travels, while of course understanding that passion for the team is intrinsic to football.
We know that our fans are among the very best in the league and hope you'll join us in supporting this initiative. Thank you.
Supporters Code of Conduct
Bath City FC is a community club committed to being open, inclusive, considerate and diverse.
We expect everyone watching Bath City – home or away – to conduct themselves in that spirit.
This means that abusive, threatening, racist, homophobic or otherwise unacceptable language, chanting or actions will not be tolerated.
Anyone who does not conduct themselves in this spirit can expect to be ejected from the ground, possibly banned from future matches, and, in appropriate circumstances, even reported to the police.
Please join us in treating everyone with respect – thank you!