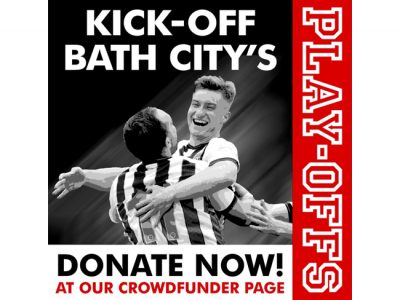 City closing in on Play-Off Crowdfunder target – Hero Rewards still available
After just 72 hours, we're now less than £2,000 away from the £35,000 target we set to compete in the promotion play-offs. Thank you to everyone who has contributed so quickly. It also means we're well on our way to allocating 1,750 free tickets for NHS staff at some of next season's matches. What an extraordinary show of generosity from you, our supporters, and from people across the city and the wider football family.
Thanks to over 300 people making donations totalling £12,372 without rewards attached, we still have a host of reward options available as follow:
11 Player Sponsors – including the likes of Dan Ball, Harvey Wiles-Richards and Jim Rollo*
22 Roman Heroes – entitling you to a personal video thank you message from Jerry or Jim and reception at a match next season
75 Bladud Heroes – putting your face on a flag in the ground and more
138 Terrace Heroes – giving you access to the live match video stream for the first match
Every one of the rewards helping towards more tickets for our the lockdown heroes.
We'll continue to accept donations for all the Rewards and issue a further update in the next 24 hours.
Thank you so much for your support from everyone at Bath City.
Head over to our Crowdfunder page to find out more or make your own donation.
*Available players: Dan Bowry, Alex Hartridge, Connor Riley-Lowe, Dan Martin, Jordan Simpson, Sam Pearson, Dan Ball, Ryan Brunt, Harvey Wiles-Richards and Jim Rollo.