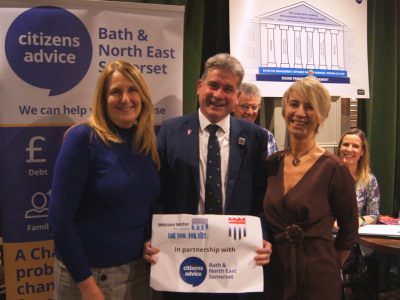 Citizens Advice brings satellite debt management service for Twerton and Whiteway
Three local organisations have teamed up to provide a weekly debt management advice service for the residents of Twerton and Whiteway.
In 2019, Twerton and Whiteway were listed as two of the most deprived areas in the UK. This deprivation is made worse by residents being located on the outskirts of Bath, far from charitable support services like Citizens Advice.
Bath City Football Club, Wessex Water and Bath & North East Somerset (B&NES) charity Citizens Advice have created a partnership to tackle the issue. With the support of the other organisations, Citizens Advice is establishing a satellite advice service at Bath City FC, in an effort to alleviate the financial challenges that some residents are facing.
B&NES Citizens Advice CEO, Les Redwood said: "The effects of 10 years of austerity on communities and charities like ours are really laid bare by the dire circumstances of some of the residents of Twerton and Whiteway.
"That's why collaborations such as this one are vital for the future provision of support to some of the most disadvantaged people in our society and it's great that our partners are helping us to help others."
A launch event to promote the service to local residents will take place at the community-owned football club on Saturday 18th January and will be attended by Ken Loach, Director of We're Sorry We Missed You, and by comedian, Dr Phil Hammond, ambassador for B&NES Citizens Advice.
General Manager of Bath City Football Club, Carole Banwell said: "The inequalities between Twerton and Whiteway and parts of the rest of Bath are alarmingly wide. So Bath City Football Club is really happy to be able to help with this project and hopes it will provide a real lifeline to local residents. As a community-owned club, we're emotionally and financially invested in making Twerton and Whiteway a better place for residents and in the end, that's good for Bath."
Director of Customer Policy and Engagement at Wessex Water, Sue Lindsay said: "We strive to offer help for customers who struggle to pay their water bills, but we know that those living in deprived areas without any local support initiatives, like Twerton and Whiteway, can be hard to reach and may be missing out on these vital services.
"We're delighted to be a part of this satellite advice service and hope to be able to help our financially disadvantaged customers in these areas get back on track."
The advice service, which will be for booked appointments and drop-ins will be on every Thursday, starting on the 13th of February from 9.30am to 2.30pm at Twerton Park, Bath City Football Club, High St, Twerton, Bath, BA2 1DB.