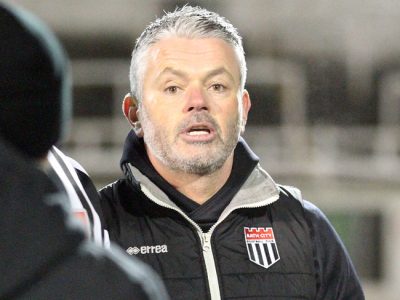 Christmas Message from Jerry Gill
I trust you all had a fantastic Christmas with friends and family. Christmas for me is always about sharing special times with people you care about and then of course our beautiful game Football.
From being a player often having to train on Christmas Day to now preparing and manging a team who have to play a lot of games in a real short space of time, the buzz around this time is amazing.
Valuable points can be gained, momentum can be found and for you the supporters it gives you a chance to get out the house and support the players in local derbies and big games with high attendances, making the atmosphere always so special.
The next two home games starting today with our local rivals Chippenham are always very challenging occasions for all to handle and deal with. I would like to welcome Gary his staff, players and supporters today. His side are full of energy and talent and we under no illusions that their league position in my opinion is a false one, they are a side that are very capable on the day.
Saying all that we are in very good form off the back of an excellent away performance at Dartford and the amazing win on penalties v National League side Bromley here last time out in the FA Trophy. Twerton Park was buzzing after the game and we felt we deserved the win after changing our shape and really go at them in the second half in such a positive manner.
My record v Chippenham as manager is one of the best so we will go all out today to try to pick up the win and three points. Its vitally important we keep adding to our tally, ensuring we can get back in and around a playoff spot after a great start to the season.
Today we will see Alex Fletcher here in attendance, he has been doing brilliant on his road to recovery and this was one of his mini targets he had set himself. So I know you will all be so happy to see him, let's make him feel special and know all the support he sees today has been with him from that night which has helped in his recovery so so much.
Thursday we also welcome Worthing here at Twerton Park. This again will be a very tough game against a free flowing side that have done great things since their promotion to the NLS. They are coached very well and will pose us a lot of challenges in the game. I would like to welcome Adam, his staff, players and supporters and trust thy have a safe journey to and from Bath today
I would like to thankyou all for your amazing support in a very tough and challenging 2022 for everyone here at Bath City. I am looking forward to seeing you in large numbers over at Chippenham on New Years Day.
Keep enjoying the festive period and most importantly be loud and proud to be a Roman today and give the players the backing they all deserve
Jerry