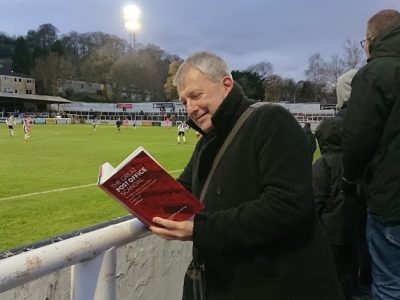 Business of the Week – Bath Publishing
Dave Chaplin, pictured, tells us about the big story that's dominated Bath Publishing's recent months:
"It's not often that an independent publisher – and a sponsor of Bath City to boot – gets to publish a book of national importance. Yet somehow that is what we at Bath Publishing have been up to.
The Great Post Office Scandal tells the story of how hundreds of innocent subpostmasters came to be convicted of crimes they did not commit just because some faulty software said they owed money. Many lost their livelihoods, some were imprisoned and some even died. It is also the story of how their dogged and heroic fight to clear their names through the courts started to bear fruit in 2021 – although the fight for proper compensation still goes on.
The author, Nick Wallis, has been following the story for nearly a decade and his account has been described by Ian Hislop, Editor of Private Eye, as "an extraordinary journalistic exposé of a huge miscarriage of justice."
Nick will be coming to Bath on 2nd March for a meet the author event at The Guildhall so if you want to find out more about the scandal – and why it all took so long to come to light – join us there and leave with a signed copy of the book."
Find out more at bathpublishing.com.