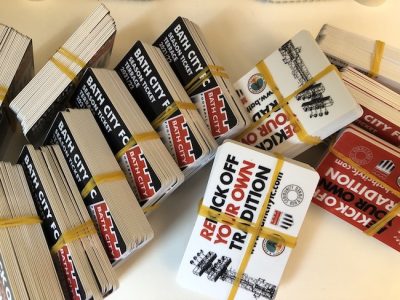 Bumper season ticket sales and they're here
The credit card-style season tickets have arrived and it's a bumper pack. Keen fans have bought season tickets in the greatest number for years, with 249 of you now signed up for the 2021/22 season – thank you! This is the biggest number for at least five years and probably beyond (we can't lay our hands on the records right now), up from 231 in 2019/20, all the way back to 150 in 2016/17.
If you're one of the 249 you can collect your season ticket from the Club Shop between 9am and 3pm this Friday, and from 1pm onwards at the Billericay match this Saturday from the collection point between turnstiles 12 and 13.
If you haven't managed to get your season ticket yet, you can still buy one online and have it sent direct to your phone. You'll still save up to £50 on entry prices, get a £5 shop voucher and five free drinks in our bars. Buy online now