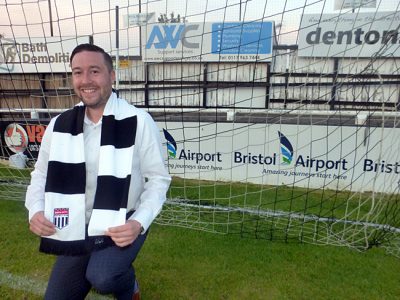 Bristol Airport continue as Bath City FC shirt sponsor for 2019-20
Following the Bath City FC shirt sponsorship draw in the TR Hayes Premier Lounge at Twerton Park on 15th May, Bath City Football Club is delighted to announce the winner of the draw was Bristol Airport – who, amazingly, for the second year running were pulled out as winners by manager Jerry Gill.
Nigel Scott, Business Development Director, Bristol Airport, said:
'We were surprised and highly delighted to win the prize draw for the second year running to be Bath City's Football Club shirt sponsor for the coming season. We look forward to continuing the partnership with Bath City FC over the next year.'
The photograph shows Dan Mills, the Business Development and Relationship Manager, from Bristol Airport following the draw.
Bristol Airport's logo will be displayed on the front of Bath City's first team home and away shirts for the coming season.
Second prize was won by Millard Signs & Graphics, who will have their name on the back of the shirts for next season, and third prize was won by Ignition Strategic Design Limited who will have their company name on the shorts.
Other prize winners were Novia Financial plc, LF Flooring and Fuller & Roper.
The club would like to thank the 83 entrants in the draw and look forward to their further involvement in the coming season. All entrants will be part of the new Bath City FC Sponsors Club for season 2019-2020.