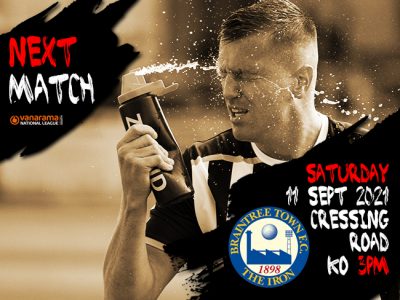 Braintree Town v City Preview
City are Essex bound for the first time this season when they visit Braintree Town on Saturday. The match will provide the opportunity to put three successive defeats behind them and get back to winning ways.
The Iron are so far unbeaten in their four matches played raising hopes that there will be an improvement on the last two seasons when they were perennial residents of the lower reaches of the league table. Their sole win came at struggling Hemel Hempstead while two of the draws came against opponents who City have also faced in Billericay and Oxford. Last Saturday they should have travelled to face Hungerford Town but the match was postponed due to a Covid incident at the Berkshire club.
This will be our seventh visit to Cressing Road, the first being in 2008. Honours are fairly evenly balanced with the City winning two and suffering three defeats including the 2-0 reverse in February 2020 which ended a winless home run lasting three months for the Essex team. That was one of the last fixtures played before the first lockdown and the two clubs did not meet in the following shortened season.
The highlight of our matches at Braintree was undoubtedly the 4-0 win we recorded in 2008 while the excellent goal scored ten years later by Jack Compton in our last win there was one of the best of recent seasons.
Cressing Road is a neat and compact ground, reflecting the fact that it hosted several seasons of football at the top level of the non league game. There is the opportunity to stand at the Quag End, as in quagmire, but the mud is no longer a feature after ground improvements! There is a good-sized club house while the Orange Tree pub is just a few minutes' walk away.
Getting there
The 175 mile trip from Bath will take around 3.5 hours. The Supporters Club hope to run a coach and full details can be found here. They were delighted with the turnouts for the coaches to Tonbridge and Oxford and are hopeful of a similar number travelling to Braintree.
The good news for train travellers is that through services to Paddington should have resumed following the completion of work at Temple Meads and that for the first time in several visits to Braintree there should be no engineering works on the line out from Liverpool Street! The train journey from Bath Spa will take a similar time to that of the coach.
Admission prices for the match can be found at the Braintree website.
Whichever means of travel you use to get to the match, have a safe journey and hopefully the reward of an entertaining match and victory for the City!