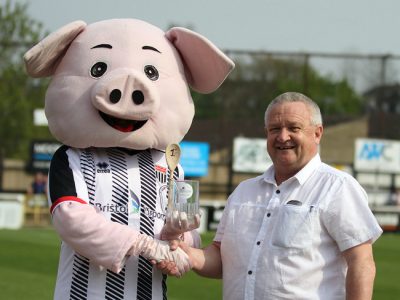 Bladud romps to victory in Wincanton mascot race
Having finished 2nd or 3rd in the previous races, Bladud was determined to get one over of his old furry rivals this year. With the usual suspects in the running (Spytty the Dog from Newport County, KC Cat from Woking and Yeovil Town's Jolly Green Giant amongst others), the contestants stretched off and lined up on the start line. The crowd were fantastic with a lot of support for Bladud.
The gun was fired and they were off! Bladud was amongst the front runners early on and managed to fend off challenges by a Frog from a charity and Lion from the Childrens Trust to streak into the lead (The half time press ups and fitness must have paid off). The crowd roared as Bladud came towards the finish line and then… broke the tape to finally claim FIRST PLACE in the 'South West Mascot Grand National'. He was presented with the first place trophy by a local horse trainer and Bladud left the event, happy as a pig in mud and looking forward to next year's event.