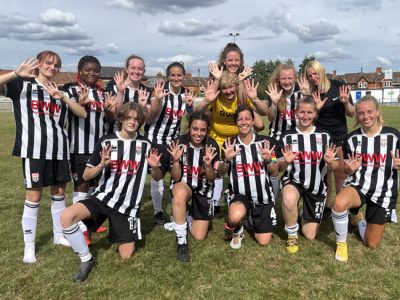 BCFC Women hit 9 in final pre-season outing
For their final pre-season game, Bath City Women travelled to take on Wells City Ladies and, in a confidence boosting performance, ran out 9-0 winners. Before kick-off Head Coach Matt Abreu urged the team to start strongly, as they had conceded an early goal in their first two games, before battling back on both occasions to win.
The women took him at his word and after threatening to score with a couple of early attempts on goal, took the lead in the fifteenth minute when Annie Hervey intercepted a goal kick and lobbed the Wells City goalkeeper. Striker Beth Edwards was forced off for treatment to her ankle, meaning that 17 year-old Sophia Major made her debut for the Bath City Women.
Jade Whale, playing at Left Wing, then came close with a shot that went over the bar, but Bath pressed the opposition Goalkeeper to win the ball back and Jade scored, meaning the visitors went into the first drinks break two goals ahead.
Both players got onto the score sheet again when play resumed, with Annie quickly scoring her second and she could almost have scored a third but was denied by a great save. Not to be outdone, Jade took the ball from just over the halfway line, surged past a couple of defenders, then cut back from the by-line to shoot. Her initial shot was saved but Jade followed through to bag her second and ensure Bath were four ahead at half-time     .
In his mid-point team talk, Abreu praised the effort and attitude of the team and challenged them to keep a clean sheet in the second half.  The team were put under immediate pressure by the opposition, who came out in a determined mood. After two corners for Wells came to nothing, City threatened again. Annie Hervey forced a great save, Tanea Wright's shot went narrowly wide and Tamzin Dunne hit the side netting before Beth Edwards, back on after her first half withdrawal, got on the score sheet. Harleigh Curtis also found the net for Bath but the goal was disallowed after she was judged to be off-side. Tamzin Dunne did get on the scoresheet by following up and tapping in her goal after her first shot was saved, giving Bath a 6-0 lead before the drinks break.
When play started again City's captain, Tara Taylor, scored her first goal for Bath after Beth Edwards intercepted a back pass. Beth's shot was saved but was pushed out into the path of the advancing Taylor who struck it cleanly to score Bath's seventh. Tanea Wright then got herself on the scoresheet before Beth Edwards got her second to take the Romans' tally to nine.
At the end of the game, a delighted Matt Abreu said; "I'm really proud of the team today. They showed that the hard work they've been putting in in training is paying off. We are starting to play with our own identity and to really gel as a team."
Captain Tara Taylor, who also works for the team's founding partner Novia, said "I'm obviously pleased with the score-line but I'm more pleased with the attitude and togetherness that the team showed today. As a new team, we have all had to get to know one another and adjust to a new way of playing. The team spirit is strong and we are committed to doing our best when the league starts next week."
Bath City Women will travel to reigning league champions Penn Mill Ladies on Sunday September 4th for their first league game. Their first home game will be at Twerton Park on Sunday September 11th at 14.00 against Portishead Ladies Reserves. The club will shortly announce details on how spectators can attend to support them.