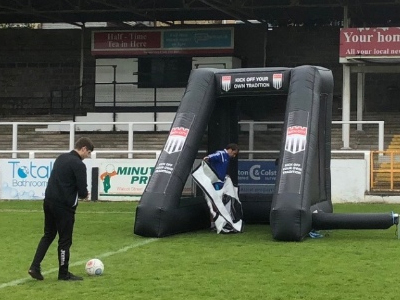 Bath Festival's Footie Day at Twerton Park
Bath City welcomed Bath Festival and talkSPORT to Twerton Park last Saturday with a full day of events including a fascinating discussion between Danny Kelly and Simon Jordan, an exclusive screening of 'Looking for Eric' with Ken Loach on hand, an enjoyable panel session featuring former 'Loaded' editor James Brown and an afternoon of fun and coaching on the pitch.
Saturday also saw the debut of our all new Bath City branded, inflatable beat-the-goalie. Part funded by Bath Forum, the inflatable is set to be a regular sight at Club community and fun-days, and school fetes across the city. If you'd like us to bring the inflatable, free of charge, to your school or community event then get in touch to apply. Attendance is entirely at the Club's discretion.