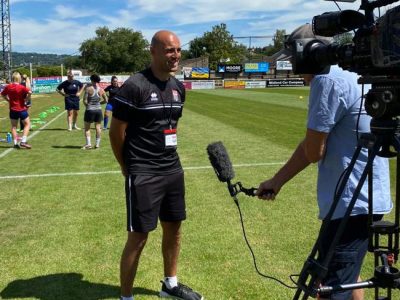 Bath City Women appoint Head Coach and hold player recruitment day
Bath City Football Club have appointed Matt Abreu as the first Head Coach of the new Bath City Women football team.
29-year-old Abreu's first task was to run the player recruitment day which took place on Sunday 10th July at Twerton Park. Abreu began his coaching career aged 18 and has experience of coaching at all age group levels at a variety of clubs including Wells City Football Club, Paulton Rovers FC, Bath Arsenal and Bath City Youth. He is also the Girls Football Development Coach at Active Trowbridge and will combine the Bath City Women role with this position.
Jane Jones, Community Director at Bath City who is leading on the setting up of the women's team said, "We were impressed not just with Matt's experience, but with his passion, enthusiasm and ambition for Bath City Women. He is a relatively young coach but having started his coaching career in his late teens, has lots of experience and knowledge of football locally. We're excited to have him on board and think he is a great fit for starting our new women's team and firmly establishing them, not just within the Bath City family but within the city and the region."
Matt is a lifelong Bath City FC fan and spoke about his passion for the club, "This club has been a really important part of my life, my first ever football match was at Twerton Park and its always the topic of conversation when my family get together. To get the chance to start a new women's team for Bath City is a fantastic opportunity. I have a young daughter who loves playing and I think there is a lot of scope to grow the game for women in Bath and provide inspiration for girls like my daughter to get involved. I can't wait to get started and hopefully create a new chapter in the club's history."
Twenty women registered to attend the recruitment day and after running a session for them on the Twerton Park pitch, Matt was pleased with what he saw, saying "I was impressed by the technical skill and passion that we saw from the women who came along today. I think we have the foundations on which to build a strong side, which is a mix of experience and youth. We'll begin pre-season training in a few days and I look forward to welcoming the women we saw today, but also some others who couldn't make it to Twerton Park this time around."
Anyone interested in playing for Bath City Women should email bathcitywomen@bathcityfootballclub.co.uk.
The team have been accepted into the Somerset County Women's League and are awaiting the fixture list to see who their opposition will be when the season starts on September 4th. All home fixtures will be played at Twerton Park and the Club hopes to encourage lots of spectators to come along to watch Bath City Women play in the black and white stripes.