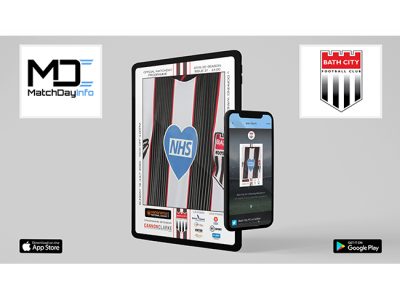 Bath City team up with MatchDayInfo for online programmes
Ahead of this weekend's Play-Off Eliminator, we're pleased to announce that we've teamed up with MatchDayInfo to make our Dorking Wanderers Match programme available digitally anywhere in the world.
People who've selected Hero Awards on our Crowdfunder campaign will already have heard about this new initiative and be receiving their free copy. But everyone else can now download the app and buy your own copy at the online price of just £2.99. Plus, there's a free copy of the programme from our last home match against Weymouth Town for you to test things out.
To get started you need to download the app from your phone or iPad/tablet.
(sorry this first step can't be done from a laptop or desktop computer, but you will be able to read the programme on all devices once you've signed up to the app), – head to your app store and download the MatchDayInfo app.
Apple/iOS: https://apps.apple.com/gb/app/matchdayinfo/id1395991281
Android: https://play.google.com/store/apps/details?id=com.matchdayinfo.app&hl=en_GB
1) Download the app
2) Go through the brief tutorial and then locate 'Bath City FC' on the team finder
3) Create your account
4) Download the free Weymouth match programme from March to test things out.
(Please note the Dorking programme has been uploaded at a clearer, higher resolution)
5) Select and buy the Dorking Wanderers Play-Off Eliminator Programme
Once you've downloaded the app and registered, you'll be able to view and buy
programmes on all devices – phone, tablet, laptop or desktop – but you must get the app on your mobile device first.
We hope you enjoy your new digital Bath City matchday programme.