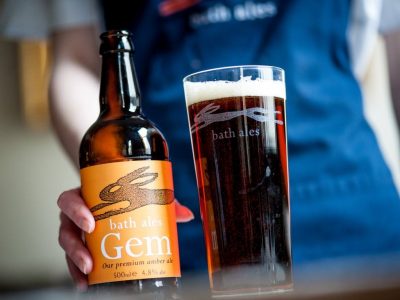 Bath City sign up Bath Ales
Bath City FC is delighted to announce a major new partnership with Bath Ales encompassing sponsorship, beer supply and charitable giving.
From Saturday 3rd September, Bath Ales will be the club's supplier of beers, including its popular flagship ale Gem, as well as providing Carlsberg lager and Thatchers cider. The local brewing company will also have an extensive sponsorship package encompassing a pitch-side hoarding, match day programme and match and ball sponsorships. Plus, in keeping with Bath City's new community ownership, Bath Ales has generously promised to donate 5p to charity for every pint of Gem and Carlsberg that's sold at the club.
Carole Banwell, Bath City General Manager, enthused, "We're thrilled to embark on this new relationship with such a popular local brand. Since the community takeover we've been steadily enhancing our food and drink offering, and we can't think of a better way of taking the next step than working with Bath Ales. We're also delighted that they've come up with the idea of giving to charity and will be consulting with our supporters about how they'd like that to be allocated."
Lee Jasper, regional sales manager, Bath Ales, said: "We're delighted about this new deal with Bath City FC. With its roots firmly in the local area, this is an example of Bath Ales' continued support for sport in the community. We're taking our commitment a step further by agreeing to donate to fans' preferred local charities when pints of Gem and Carlsberg are bought at the club's bars; here's to a great season." You can find out more at www.bathales.com
The first pints of Gem will be pulled at Twerton Park this Saturday when Bath City are at home to Welling United in a National League South fixture. Bars are open from 1pm on match day and fans can also nip into Charlie's at half time and at the end of the match to sample the new offerings.