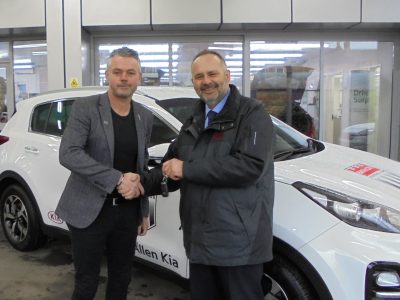 Bath City link up with Allen Kia
Bath City is pleased to announce a new partnership with Allen Kia, of Lower Bristol Road, Bath, to provide manager Jerry Gill with the use of a Kia Sportage as he clocks up the miles linked to his work for the Bath City Community Sports Foundation, as well as scouting players and watching opponents ahead of forthcoming fixtures. The support of Sales Manager Alastair Soper at Allen Kia is greatly appreciated.
Alastair commented, "We are delighted to help Jerry with his Sportage at this exciting time for Bath City. We hope the season continues to go well for the team and look forward to offering our continued support to BCFC and the supporters alike. In fact look out for the Bath City Supporters £500 off Vouchers available at the club on match days." The photograph shows Jerry Gill with Alastair Soper as he collects his new car.
Allen Kia will be present at this Saturday's match against Slough Town with an All-New Kia Proceed on display a the ground, and they will be distributing the £500 off vouchers.
All-New Kia ProCeed
The All-New Kia Proceed, will be on display at the game aaginst Slough Town on 23rd February. The All-New Kia Proceed was recently revealed at the Paris Motor Show. Carrying over the name from the second-generation Kia pro_cee'd three-door coupe, the Proceed is now launched with a new concept that takes the Ceed model family in a bold new direction.
A shooting brake body style with the space and versatility of a Wagon, combined with an emotive, swept-back design of a coupé giving it a unique raked-back silhouette unlike anything in the family car segment.
The All-New Kia ProCeed is available exclusively as a 'GT-Line' or high-performance GT model. It is lower and longer than the 5 door hatchback and sportswagon, sharing only its bonnet and front wings with the other body styles. Everything rearward of the A pillar has its own individual style and character.
Find out more about the All-New Kia ProCeed
Allen Kia is on Lower Bristol Road, Bath