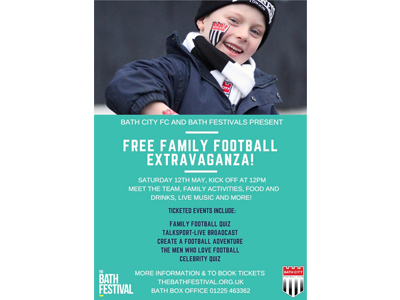 Bath City host talkSPORT and Bath Festivals Football Extravaganza
Bath City are delighted to announce a full day of Bath Festival, football-focused events at Twerton Park put on in conjunction with talkSPORT radio. The day kicks off at 12pm on Saturday 12th May with a Family Football Quiz followed by a three-hour live broadcast by talkSPORT taking your questions from the floor, a panel session headed by Vince Hilaire discussing what makes people love football and a children's sport story workshop, before rounding off with a Celebrity Quiz at 8pm. The day will also feature special guest caterers, pop-up bars and plenty of free fun activities – plus more events to be announced.
This is an amazing, high profile event bringing national radio and Bath's biggest cultural event right into the city's beating heart of football – Twerton Park. Make sure you're part of it.
Find our more and book tickets at: www.bathfestivals.org.uk or call 01225 463362